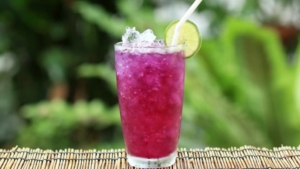 Thailand is known for its delicious and tasty cuisine. In addition, the Yummy Thai Drinks are not left behind. The locals love their sweet and Yummy Thai Drinks the same way they love their different Thai dishes
Nam is a Thai word that means water, liquid, or fluid. Some of the Yummy Thai Drinks mentioned here have the word Nam in them. 
Today we will talk about the 11 colorful and Yummy Thai Drinks that you can pair when you eat out with your friends at a Thai restaurant or order your food online. 
O-liang (Sweet Black Iced Coffee)
O-liang is a traditional Thai iced coffee. The drink is one of the popular Yummy Thai Drinks the locals love to ingest to quench their thirst on a hot sunny day. Coffee lovers would surely enjoy this refreshing and Yummy Thai Drink.
Nam Ma-toom (Bael Fruit Tea)
If you have a stomach problem ( bowel movement, diarrhea, and indigestion), Nam Ma-toom will help relieve your discomfort. This Thai Drink is extracted from the bael fruit and has a sweet and refreshing taste. 
Yummy Thai Drinks:
Nom Yen (Pink Milk)
Have you tried drinking milk with pink color? Hmm.. Interesting, right? Just like other Thai Drinks, Nom Yen attracts mostly girls because of the pastel pink color. Not only the color is attractive but also the creamy and sweet flavors of the beverage (plus the refreshing scent you can smell
Nam Ta-klai (Lemongrass Drink)
Nam Ta-klai is one of the Yummy Thai Drinks that is beneficial to the health. It helps in digestion and treats stomachaches, asthma, and hypertension. The drink is rich in calcium a d phosphorus and makes the bones stronger. 
Yummy Thai Drink: Thai Lemon Tea
A drink sweating with ice to cool you down from the unforgiving heat of summer is Lemon Tea. The Thailand version of this Yummy Thai Drink is substituting lemon into lime, which is actually a lime tea. Lemon tea is so refreshing; that's why it's a perfect drink on a hot summer day. 
Nam Gek Huai (Chrysanthemum Tea)
Nam Gek Huai is among the Yummy Thai Drinks that come from a flower. Chrysanthemum has natural cooling compounds that will make your body freshen up upon drinking a glass. The tea can be both serve hot or cold and help alleviate a fever or sore throat.
Red Lime Soda
If you had a party the previous night and suffering from a hangover the following day, Red Lime Soda is an excellent choice to soothe your headache. And you can have this Thai Drink if you are not a fan of milky or caffeinated drinks. 
Nam Mapraw Orn (Coconut Water)
Do you want a refreshing and Yummy Thai Drink? Order a glass (or just the nut itself) of coconut water and taste the coconut water's natural flavor from the inside of the nut. The drink is also healthy because it is low-fat and cholesterol-free. Furthermore, it helps people who are suffering from Urinary Tract Infection (UTI). 
Yummy Thai Drink: Nom Anchan (Butterfly Pea Milk)
The attractive blue color of this Drink will catch your attention right away while browsing the restaurant's menu on the drinks section. Like other Yummy Thai Drinks, Nom Anchan is a refreshing beverage from the Butterfly Pea flower and is a milk-based liquid so expect a milky flavor. 
Cha Yen (Thai Iced Tea)
Another colorful, traditional, and Yummy Thai Drink is Cha Yen or Thai Iced Tea. This creamy, sweet, and orange color drink is among the popular Thai Drinks in the Land of Smiles. You should include Cha Yen in your must-try list when you want to cool down. 
Nam Krajeab (Roselle Juice)
The brightly colored and Yummy Thai Drinks of Thailand are never-ending. Here's another eye-catching beverage you can get to quench your thirst after eating a fiery meal. Nam Krajeab is an herbal drink with a sweet and sour flavor. It is also rich in Vitamin C, so drinking Roselle juice is helpful if you lack this vitamin. Don't miss out on this pretty color maroon drink when you are thirsty!
Thailand's beverages are colorful, sweet, but healthy. You have read a few of the Yummy Thai Drinks that are beneficial to the health in this article, so if you want a refreshing and good for the wellness liquids, Yummy Thai Drinks are a must-try
And since summer is just around the corner, you can prepare a drink to satisfy your thirst, or if you crave Yummy Thai Drinks, there are many famous Thai beverages you can buy online or at a nearby restaurant
Thank you for spending the time to browse this write-up about
The 11 Yummy Thai Drinks to Cool You Down
. Have a good time! 
More like this:
Thai Food Culture: An Essential Guide
Thai Chicken Dishes That Everyone Loves
Mouth Watering Thai Foods You'll Love at Yummy Thai Flowermound
How to Enjoy Thai Food at Restaurants – Norms & Traditions
Famous Thai Soups That Are Worth Trying!
Yummy Thai Flowermound Top Menu Picks