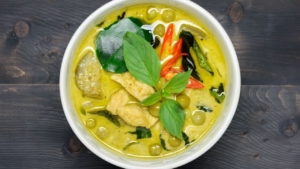 Thailand culinary has many variations; from fried rice, noodles, soup, curry and many more which attracts the attention of many foreigners who are exploring Thai Food.
Prepare yourself to be indulged as we talk about the wide variety of Thai cuisine.
Gaeng Tai Pla (Fish Kidney Curry)
Since fish is abundant in the fishing community of Southern Thailand, the people invented a dish using the fish entrails (Tai Pla) as its main ingredient, which gives the food a pungent taste and smell. It is more compelling to eat this Thai Food during lunch or dinner when served hot and with a steamed rice bowl.
Gaeng Tai Pla is a super hot Thai Food, so if your tastebuds can stand fiery dishes, then have a serving. But if you can tolerate spicy food, you can still challenge yourself, taste it, or just skip it.
Khanom Jeen Nam Ya Katikl(Coconut Milk Curry w/ Rice Noodles)
Speaking of curry dishes, Khanom Jeen Nam Ya Kati is a well-loved Thai Food in the Southern part of Thailand. Coconut milk curry with rice noodles doesn't take ages to prepare and cook, unlike most curry dishes. The only challenging part of preparing this food is the manual pounding of the curry paste. But if you don't have much time to do it, blending the paste is an alternative. 
Gaeng Keow Wan Kai (Thai Green Curry Chicken)
If you want your usual chicken curry dish enticing, try Gaeng Keow Wan Kai, a Thai Food that is very easy to prepare so you won't wait for a long time when you order it, especially when you are very starved. And suppose there's a leftover after eating, you can take it home and enjoy it on your next meal because leftovers are tastier. 
Kai Med Ma Muang (Thai Chicken with Cashew)
Upon seeing this colorful Thai Food, your stomach will surely cry in hunger and want to dig in right away. Your meal will be indulging with this delicious Thai Food consisting of cashew nuts, chicken, onions, sauces (fish/soy), chilies and other spices. It's even better to eat this dish with a bowl of fluffy Jasmine rice
Kai Med Ma Muang is the Thai version of the Chinese dish "Kung Pao Chicken" which means that it's a Chinese-inspired food substituting the peanuts to cashew nuts. 
Som Tam (Spicy Green Papaya Salad)
Originated in Laos and Isan (Northeastern Thailand), Som Tom garnered the 46th place on World's 50 most delicious Foods organized by CNN go in 2011 and 2018
Som Tam's main ingredients before according to history are the local fruits and vegetables like unripe mangoes and cucumber with sour seasoning. However, during the Columbian exchange wherein an introduction of crops like papaya in the mainland Southeast Asia, Sujit Wongthes – a historian- thought that the main ingredient of this Thai food is papaya. 
Pad Sataw Goong (Stink Beans)
Have you tried eating something stinky but taste deliciously at the same time? Nop? Pad Sataw Goong is a Thai Food that is worth a try. The smell might turn you off but I assure you that eating this dish won't make you forget Thai cuisine. 
Khao Pad
Is fried rice one of your comfort foods? Khao Pad would then be a great choice when you want to eat Thai style fried rice
This Thai Food is common on the streets and in every restaurant that serves stir-fried rice dishes in Thailand. So ordering this food in a Thai restaurant near your place is not shocking. 
Soup Neua (Beef Soup)
Who would refuse a hot soup on a cold and freezing day? Of course you and I both know that it is great to have a warm bowl of soup to make our body cozy during cold weather
Soup Neua is a Thai-Muslim soup consist of tenderly boiled beef, lime juice, and lots of chilies that is comforting to devour.
Tom Saap (Isaan Soup)
Isaan (a region in Thailand) is a home for many flavorful Thai dishes and one of them is Tom Saap, also known as Tom Sab 20 years ago. The transformation of this dish makes it incredible. From a simple spicy clear soup with chewy tripe (cow's small intestine) to a more diverse and exciting food
The best thing about Thai Food is the endless options. The dish' long list will make you just stay put on your chair and taste as much as you could. So whenever you dine in a Thai restaurant, don't just order the same dish over and over, instead, get the ones you didn't taste yet!
Again, thank you for rendering your time reading about
9 Irresistible Thai Food.
If you want to know more, stay posted on our next article.
More like this:
Thai Food Culture: An Essential Guide
Thai Chicken Dishes That Everyone Loves
Mouth Watering Thai Foods You'll Love at Yummy Thai Flowermound
How to Enjoy Thai Food at Restaurants – Norms & Traditions
Famous Thai Soups That Are Worth Trying!
Yummy Thai Flowermound Top Menu Picks
Healthy Thai Noodles To Keep You Warm