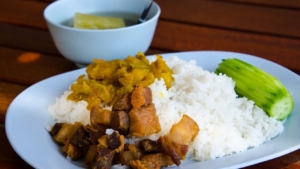 The Land of Smiles has a rich variety in its culinary that interests the tourists so they love visiting the country during their holidays. There's not much difference in the dishes that they eat from breakfast to dinner. So whatever they eat for breakfast, they also have it for lunch and dinner
What are the Thai Lunch specials local restaurants serve that make people salivate and make their tummy happy whenever they have their meal?
Thai Style Fried Noodles or Pad Thai
Do you want to have a tasty but affordable Thai Lunch meal after roaming around the city? Have a try of Pad Thai – a national dish in the Land of Smiles which a newbie on Thai food is recommended to taste because you can find it easily in every restaurant or stall on the street. The fried noodles comprise bean sprouts, beef, chicken, a scrambled egg, peanuts, and rice noodles. Skip the meat if you are a vegetarian and tofu is a great alternative you can use. 
Morning Glory or Pak Boong
Green leafy vegetables like Morning Glory or Water Spinach are a very good source of fiber, so if you love eating leafy vegetables, Pak Boong is worth trying for your  Thai Lunch. Pak boong is hard to find in western restaurants so if you have the chance to be in the Land of Angels, don't miss out on this spicy-sour-salty and crunchy dish. 
Thick Noodle Dish or Pad See Ew 
Another noodle dish you can have for your Thai Lunch is the Pad See Ew. Though Pad See Ew and Pad Thai are both noodles, their taste differs from each other. Pad Thai is sweet and has a nutty flavor while Pad See Ew has a combination of a sour and salty taste
The name Pad See Ew refers to "stir-fried soy sauce noodles", and the secret to creating a mouth-watering flavor is to get the right sauce for it. So ask the server the best sauce to use to have an incredible experience eating noodles!
Noodle Soup or Guay Teow:
Thai Lunch
Guay Teow means noodle soup in Thailand and it represents all types of noodles you can have for your Thai Lunch if you're craving noodles. It is a Chinese adoption which they modified into Thai noodle soup style. The noodle soup composes crispy egg, pork, beef, meatballs, dumplings, and other ingredients that the eater wants to have.
According to history, Guay Teow is an essential method of solving the economic crisis in Thailand in the 1930s due to the severe flooding. And it is popular among the locals because the soup is very nutritious, economical, affordable, and friendly to everybody's taste buds.
Thai Curry or Panang:
Thai Lunch
Are you a  first-time visitor to the Kingdom? If so, include Panang in your Thai Lunch "must eat" list. Panang is thick and creamy but has the mildest taste among the other Thai curries so you can relax and enjoy your food
This Thai Curry originated in Malaysia and its name is derived from a state in the Northern part of the country. When preparing the dish, you need meat (liver, pork, beef, and chicken), fish, eggplants, and other materials like Panang curry paste, coconut milk, basil, chilies, garlic, and palm sugar. 
Fried Vegetables or Pad Phak Ruam
Pad Phak Ruam is in favor of vegetarians and they have a good time while devouring their Thai Lunch. On the other hand, meat lovers shouldn't skip trying this dish because, with the unique ingredients Thais used in preparing the food, you will surely love this mixed vegetable dish.
Thai Omelet or Kai Jeow
If you are hungry as a bear after looking around the city and want a quick Thai Lunch, Kai Jeow is a great choice you can have to ease your hunger while thinking of other Thai dishes to order. This easy and quick to cook Thai omelet has also its variations. Instead of just having the basic ingredients like eggs, onion leeks, and garlic, you can spice it up with pork, shrimp, crabmeat, and the like
Most of the Thai dishes are found on the street, from the small stalls to the different restaurants, so it will be easy to order food for your Thai Lunch
Do you feel hungry after reading all the tasty and flavorful Thailand dishes and suddenly crave Asian cuisine? You can go to the nearest Thai restaurant from your place and dig into these foods, or better yet, choose a dish that is easy to prepare and try cooking your Thai Lunch at home
Thank you for reading
Incredibly Delicious Thai Lunch Specials 2021
and hoping that the article helps you learn about
Thai Lunch
. 
More like this:
Thai Food Culture: An Essential Guide
Thai Chicken Dishes That Everyone Loves
Mouth Watering Thai Foods You'll Love at Yummy Thai Flowermound
How to Enjoy Thai Food at Restaurants – Norms & Traditions
Famous Thai Soups That Are Worth Trying!
Yummy Thai Flowermound Top Menu Picks
Healthy Thai Noodles To Keep You Warm