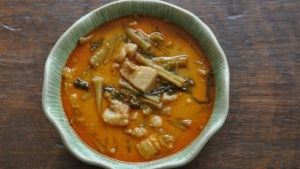 Thai Curries are popular in Thai Cuisine and there are many dishes with Thai Curries that both the locals and tourists love devouring. When we say Thai Curries, it means these are the different Thai curry food with curry paste and the curry itself
"Kaeng or Gaeng" refers to Thai Curries in Thailand. Though the locals use curry when preparing curry dishes, the ingredients used in making the paste varies from different regions. For example, in the Northern part of Thailand, coconut milk is absent when making the paste because coconuts don't grow well in the highlands
Some dishes are Indian-influenced but the locals have their own version of making Thai curry dishes using their fresh ingredients and give each dish its delicious aroma. There are 4 authentic Thai Curries that you must know about if you intend to try Asian food or go to the Land of Smiles. 
Thai Curries:
Green Curry
The name "Green Curry" obviously came from its color green. This curry is made mainly of green chilies, but the other ingredients are not fixed and it has a tangy taste so it is not as sweet as the other Thai Curries
Green curry paste composes white peppercorns, salt, shrimp paste, galangal, lemongrass, green chilies, garlic, shallots, kaffir lime peel coriander roots, and cumin seeds pound in a mortar. 
It is considered the spiciest among all the Thai curries which will make yiur palate feast when you savor your food if you are a fan of spicy food. But if you prefer to have a not so hot dish, you can always ask the server to lessen the spiciness of the dish.
Yellow Curry
Yellow curry has lesser chili among the Thai Curries and the ingredients are ginger, mace, cinnamon, salt, garlic, cumin, bay leaf, cayenne pepper, lemongrass, turmeric, and coriander. 
In Thailand, yellow curry is accompanied with beef, chicken and vegetables with starch like the potatoes. It is also best paired with steamed rice or Khanom Chin ( round rice noodles).
The yellow curry is a British-influenced between 19th and 20th centuries which is why many restaurants in the West serve yellow curry dishes. 
Red Curry:
Thai Curries
Red curry is made from shallots, garlic, red chili peppers, shrimp paste, galangal, kaffir lime leaves, salt, coriander root and seeds, peppercorns,lemongrass and cumin seeds including some meat (depending on the cook's choice) like beef, chicken, pork, duck and seafood (shrimp).
Though the color of this curry is red, it is not the hottest among the Thai Curries so you don't have to worry about the flavor when you have any dish with the red curry paste. 
Red curry is the heart of seasoning in many Thai dishes such as grilled sausage and fish cakes.And at the present you can buy ready made red curry paste placed in jars or bottles in the market.
Massaman Curry
Massaman curry has a mild taste and is composed of meat, tofu, onion,peanuts, cashew, coconut milk, potato, cinnamon, bay leaf, cardamom pods, palm sugar, star anise, tamarind sauce, fish sauce and chili. 
In 2011, Massaman Curry ranked as the top one's most delicious food in a write-up entitled World's 50 most delicious food by CNNGo and ranked number ten in the survey subtitled "Readers' Picks".
Here are a few of the well-known Thai curries that locals love eating and worth trying for tourists.
Phanaeng (creamy and mild curry)
Kaeng Kari

(yellow curry)

Kaeng Khiao Wan (green curry)

Kaeng Khae (curry of Northern Thai)

Phat Phrik Khing (stir-fried chili ginger-but no ginger)

Kao Soi (curry noodle soup)

Kaeng Som (sour curry)

Kaeng Matsaman (Muslim curry)
The locals love preparing the curry paste since they have all the necessary materials they need in their hometown and of course they can create their own version and control the spiciness of the curry paste. The typical Thai Curries' ingredients are coriander, lemongrass, onions and shallots, galangal, shrimp paste, garlic, and chilies. But the main materials you need are: coconut milk or water, seafood, meat, curry paste, herbs, and fruits or vegetables. Some herbs and spices are also added depending on the curry paste a local is going to make
Now that you learned about the different Thai Curries, I hope that all your doubts and hesitations about trying the various Thai curry dishes are gone. 
Thank you so much for reading this article about
4 Authentic Thai Curries You Must Know.
It is my wish that you will learn about
Thai Curries
after reading. 
More like this:
Thai Food Culture: An Essential Guide
Thai Chicken Dishes That Everyone Loves
Mouth Watering Thai Foods You'll Love at Yummy Thai Flowermound
How to Enjoy Thai Food at Restaurants – Norms & Traditions
Famous Thai Soups That Are Worth Trying!
Yummy Thai Flowermound Top Menu Picks
Healthy Thai Noodles To Keep You Warm