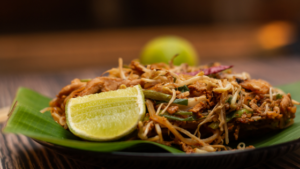 Thai Breakfast is the opposite of a Western-style breakfast. So if you are used to eating bacon and egg, cereal, pancake, toasted bread, and milk for breakfast, it might be a bit challenging to try Thai Breakfast. 
Thai cuisine is unique because of the different spices that they put in their food. The five flavors, such as sweet, spicy, sour, bitter, and salty, are common in every dish. They enjoy the kick of the fiery taste, which makes them alive to start the day. 
But don't worry if you are one of those who dislike super hot food because you can always request a milder flavor for your meal.
Here are some of the incredible Thai Breakfast dishes that are worth trying when you travel to Thailand. 
Khao Yam (Southern Thailand Rice Salad)
A Thai Breakfast, and a specialty in the Southern part of Thailand, is Khao Yam or Southern Thailand Rice Salad. Its name is from its origin and is challenging to duplicate. All because of its startling components that are only available in the Southern part of Thailand. The dish comprises various vegetables, fresh herbs, chilies, kaffir lime leaves, and steamed rice.
According to History, this rice salad is from a Doctor when a ruler in the Southern region's order to him is to make a dish in one plate. More than that, it should have combine of all the healthy materials they can get at that time.
Though duplicating the dish is quite tricky, you can still make it with the veggies available in your home as long as they are fresh and good for the serving.
Thai Breakfast:
Jok/Joke
Jok is a Thai Breakfast, which is a rice congee porridge, similar to a Chinese congee. It is a perfect meal in the morning, especially if it is warm. This dish comprises boiled rice with garlic, ginger, and fish sauce. Meat (like chicken, pork, or whatever you want) or boiled egg is added and is excellent comfort food for someone who has a cold. 
If you feel like eating it at night, you can have a bowl or two of your liking. This dish is like a substitute for western cereal.
Mu/Moo Ping (Thai-style Grilled Pork Skewers)
Who doesn't like barbecue for breakfast? Skewers are an all-time favorite, and I'm sure you too! Just the aromatic smell of the grilled pork skewers excites your tummy to have a bite and keep on going after every bite. This food is widely sold on the street, and you can eat it with sticky rice wrapped in a banana leaf so it won't get messy when you get a portion to pair with the skewers. Skewers are displayed on the pushcarts on the street and are available 24 hours, so you can go out and buy anytime you want to satisfy your cravings. 
Tom Luad Moo
If you fancy a unique Thai Breakfast, you might want to try the locals' favorite-Tom Luad Moo, boiled pork blood with other internal organs of the pig, like intestine, liver, and lungs. This protein soup has a pretty plain flavor, so you can spice it up by adding vinegar and chilies, and pairing this dish with a bowl of rice would make your morning meal fantastic. 
Gai Yang:
Thai Breakfast
Do you go bananas just by thinking of chicken, especially if it is? I feel you! Gai Yang is a famous Thai Breakfast in the Land of Smiles, and you can order this food from restaurants or small stalls on the street. The dish comes with a sweet and spicy sauce, which will make your tastebuds dance in joy while munching the freshly grilled chicken. And if you want, you can pair the chicken with sticky rice to satisfy your hunger to start your day with energy. 
Aeb Pla Nin (Thai Fish Grilled in Banana Leaves)
Have you experienced grilling fish in banana leaves? Not yet? Well, you should definitely add this Thai Breakfast to your "must eat" list to discover the delightful flavor of the dish. Aeb Pla Nin is typically served in the local market or street of Northern Thailand and is difficult to find in Bangkok. This Thai Breakfast favorite composes Tilapia (fish name), herbs, spices, and curry paste, wrapped in a banana leaf before grilling in hot charcoal. 
Aahan Chow is the Thai word for breakfast, meaning morning food, which has many various foods to munch, whether at a restaurant or the stall on the streets. The following Thai Breakfast's list shows some of the foreigners' favorite meals in the morning before going to work or visit the different scenic spots of Thailand. 
Thank you for spending time to read this article about
6 Delicious Thai Breakfast You Should Try
. I hope that it's beneficial and you have an idea about
Thai Breakfast
.
More like this:
Thai Food Culture: An Essential Guide
Thai Chicken Dishes That Everyone Loves
Mouth Watering Thai Foods You'll Love at Yummy Thai Flowermound
How to Enjoy Thai Food at Restaurants – Norms & Traditions
Famous Thai Soups That Are Worth Trying!
Yummy Thai Flowermound Top Menu Picks
Healthy Thai Noodles To Keep You Warm