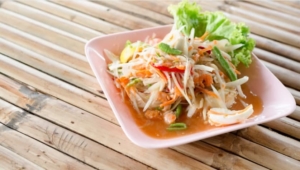 Thai salad falls into four ways of preparations: yam, phla, tam, and lap. Yam's translation is "mix," but it is a collection of salad-like dishes in Thai cuisine. Som Tam or Green Papaya Salad is the original and most sought after among the Healthy Thai Salads; a Tam-styled salad. Phla style salads are Healthy Thai Salads composed of protein ingredients and are cooked from rare to medium. Lap or Larb originated from Laos and is one of the Healthy Thai Salads that are well-known globally
Perhaps you opt to dig into Healthy Thai Salads; here are a few examples you can try on their menu when you happen to be in a Thai restaurant. 
Raw Pad Thai
This classic and crunchy dish is one of the Healthy Thai noodle Salads rich in nutrients that you can enjoy with your friends. Raw Pad Thai is vegetarian-friendly, composed of peanuts or cashew (to make the dish crunchy), bean sprouts, red bell pepper, shredded carrot, and other spices makes your palate feast after one spoonful and crave for more. 
Cucumber Salad
Cucumbers revitalize the skin, which is why individuals put some on top of their faces to make the skin fresh and young-looking. How much more if you eat them? Cucumber salad is composed of fresh cucumber (thinly sliced), cilantro, shallots, green onions, and peanuts and is also among the Healthy Thai Salads. You can spice up this savory and sweet dish with dressing -consist of fish sauce, lime juice, soy, sugar. When you order this Healthy Thai Salad and are allergic to peanuts, inform the server that you can't eat that particular food so they can serve you an alternative ingredient for your serving. 
Rice Noodle Salad  With Chili-lime Vinaigrette
Composing of rice vermicelli, bean sprouts, bell pepper, onions, carrots, tomatoes, tofu, and different herbs, with savory and tangy dressing (lime juice, soy sauce, fish sauce, chili sauce, sugar, and garlic), this colorful and Healthy Thai Salad will surely rejuvenate you after having a helping. If you want to try making it at home, Rice Noodle Salad is easy to make because you can use any available vegetables in your fridge. 
Weeping Tiger Grilled Beef Salad
This Healthy Thai Salad is also known as The Crying Tiger Thai Salad. The combination of the sliced and aromatic grilled beef and the tasty and spicy sauce makes this dish perfect when you want to enjoy your salad with meat. There are stories of the origin of this salad's name. They said that a tiger cried because of the chilies. Another tale is that a hunter made a tiger weep when he hunted and killed the tiger's cow. In reality, the serving will make you teary because of the fiery sauce. 
Goong Yang Yum Ma Muang (Green Mango Thai Style Salad)
Would you like your salad made from green mango? Composed of shredded mango, peanuts, shrimp or tofu, and different spices like shallots, cilantro, and onions, this Healthy Thai Salad can be enjoyed as a dessert with sticky rice. If you fancy a fiery flavor, you can add more chili to it. 
Thai Mango Chicken Salad
Another Healthy Thai Salad with mango in it that you can order is Mango Chicken Salad. Salad lovers would love to indulge in this Healthy Thai Salad consisting of mango (sliced in cubes), chicken, red pepper, crunchy cucumber, sprouts, and aromatic herbs. The bright color of the dish entices not only your eyes but also your palate. So if you opt to have mango and chicken salad, a bowl of this food would make you smile. 
Yum Hua Pli (Banana Blossom Salad)
The blossom is one of the main ingredients of this Healthy Thai Salad. If you haven't tried this Healthy Thai Salad yet, you should include it in your "must-eat" list
Thailand is attracting many foreigners' attention for its dishes' fresh and bold flavors. And if you are already into Thai cuisine, a long list of Thai food like Healthy Thai Salads awaits you!
Thanks for your time browsing about
Healthy Thai Salads You Must Try in 2021
. Stay posted on our next article for more tasty Thai cuisine. 
More like this:
Thai Food Culture: An Essential Guide
Thai Chicken Dishes That Everyone Loves
Mouth Watering Thai Foods You'll Love at Yummy Thai Flowermound
Famous Thai Soups That Are Worth Trying!