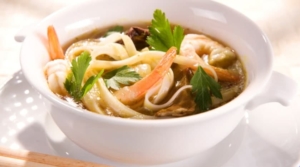 Who doesn't want a bowl of Comforting Thai Soup, especially on a cold-weather day? Filling your tummy with a serving of warm soup is refreshing and energizes you before doing your activities for the day.
Everybody is aware of how tasty and flavorful  Thai cuisine is, which is why the Land of Smiles is attracting many foreigners to visit the country not only because of its beautiful tourist destinations but also about its cuisine. 
Let's explore the 10 Comforting Thai Soups in this article, and I hope that it will be helpful in writing your "must-try" list of the Comforting Thai Soups. Enjoy!
Chicken and Rice Noodle Soup
Among the Comforting Thai Soups is this classic chicken and rice noodle soup. It is great to have a bowl of fragrant soup, especially when you are fighting a cold or flu, or just to satisfy your hungry tummy and make it warm because of the cold weather. 
Vegetable Noodle Soup with Tofu and Lemongrass
Share a bowl or two and enjoy this vegetarian-friendly and Comforting Thai Soup while having a chat with your friends or loved ones on a rainy day. The delicious and appealing appearance of the dish makes your palate dance in joy, especially when you taste the chili inside your mouth. Its spiciness will get rid of the cold you are feeling.
Vegetarian Tom Yum Soup
This colorful Comforting Thai Soup is so enticing that you can't get enough after a helping and wanting to have one more round of the dish. Since it is a vegetarian soup, you can enjoy the soup with everyone without worrying if they like meat with their soup or not. 
Pumpkin Soup with Shrimp and Cucumber 
Let's make your pumpkin soup with a twist (by adding shrimp and cucumber). Pumpkin and shrimp are a perfect combination in making the dish. The creaminess of this Comforting Thai Soup will complete your meal. 
Khao Soi (Thai Coconut Curry Noodle Soup) 
Don't miss out on this Comforting Thai Soup called Khao Soi or Thai coconut curry noodle soup if you love curry and noodle dishes. Khao Soi originates from the Northern part of Thailand.  To make your soup more flavorful, you can add shrimp or chicken to it. And for your vegetarian friend, tofu would be an excellent alternative to meat.
Thai Broccoli Soup 
Who would have thought that a simple broccoli soup would be a Comforting Thai Soup that everyone can devour! The bright green color of the dish is so inviting to the tastebuds and makes them have a feast. 
Thai Noodle Soup
Thai noodle soup has many variations you can choose from. You can have this Comforting Thai Soup with chicken or red curry and many more flavors depending on what you crave by the time you will have your meal. 
Tom Klong 
Tom Klong is a Comforting Thai Soup that is great to have when it is still hot. The dish is not only comforting but also healthy with the dried fish and different herbs in it. You'll surely want to have more after finishing a bowl of Tom Klong.
Kuai Tiao Ruea (Boat Noodles) 
When you order a bowl of boat noodles, you will notice that the platter is small. Why is that? It is related to its history wherein a seller sells noodles in the boat. And since the seller is alone, he will cook and serve the dish to the customers. And because he is in the boat, it is hard to put the food into a big bowl because it might spill, therefore serving the delicious dish in a small bowl to avoid spilling the food. 
Gaeng Kai Sai Ma Ra (Herb and Chicken Soup)
Start your meal with this tasty and Comforting Thai Soup that consists mainly of herbs and chicken. Gaeng Kai Sai Ma Ra may be unusual in your eyes and haven't seen or tasted before, but you'll be surprised how flavorful this dish is after having a serving. 
Whether the cold is freezingly cold because it's winter or raining, as long as you crave Asian food, don't miss out on these Comforting Thai Soups and let your tummy feel the warmth of each dish you will order.
Do you feel your tummy growling after reading all these flavorful Comforting Thai Soups? Don't wait for your stomach to get more attention. Instead, grab your friends and go to the nearest Thai restaurant and order the soup that caught your attention from the article, and let yourself have a blast while helping yourself. 
Thank you so much for spending the time to read
10 Comforting Thai Soups You Should know.
I hope you'll have a blast while warming your tummy with the various
 Comforting Thai Soups. 
More like this:
Thai Food Culture: An Essential Guide
Thai Chicken Dishes That Everyone Loves
Mouth Watering Thai Foods You'll Love at Yummy Thai Flowermound
How to Enjoy Thai Food at Restaurants – Norms & Traditions
Famous Thai Soups That Are Worth Trying!
Yummy Thai Flowermound Top Menu Picks