If you've got a sweet tooth and love indulging in desserts, you are in for a treat today. In this blog post, we will take you on a mouth-watering journey to explore some of the most heavenly and satisfying Thai desserts that will make your cheat days even more delightful!
From the creamy and fragrant mango sticky rice to the crunchy and addictive Thai-style Roti, we have handpicked six must-try sweet Thai food treats that will leave you craving more. So, whether you are a fan of the cuisine's traditional flavors or looking to try something new, get ready to satisfy your sweet cravings with these yummy desserts. Let's dive right in!
Sweet Thai Food #1: Thai Sticky Rice With Mango
This dessert is a classic Thai favorite and is loved by locals and tourists alike. Made with fragrant sticky rice cooked in coconut milk and served with juicy ripe mango slices, this dessert is a heavenly combination of sweet and savory flavors. Of course, the famous mango sticky rice is the first on our list. The sticky rice is infused with pandan leaves that give it a unique aroma and flavor, and the ripe mango adds a burst of freshness and sweetness to the dish. You can find this delicious treat at most Thai restaurants, night markets, or street food stalls. It's a must-try dessert for anyone visiting Thailand, and once you taste it, you'll understand why it's so popular!
Sweet Thai Food #2: Roti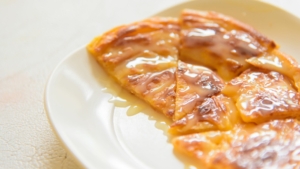 While it can be paired with different toppings and fillings, Yummy Thai Flower Mound's version of Roti is an ideal snack for those with a sweet tooth. Our chefs prepare the dough fresh and cook it to perfection, resulting in a crispy and flaky texture that pairs perfectly with the sweet and creamy condensed milk. You can also add a unique twist to this classic dessert with banana slices, Nutella, or peanut butter.
Sweet Thai Food #3: Fried Banana With Honey
Yummy Thai's Fried Banana With Honey is also a must-try if you want a healthier yet filling option. This dessert is a simple yet delicious treat perfect for those who want to indulge in something sweet without feeling guilty. We take ripe bananas and coat them in a crispy batter and roasted sesame before deep-frying them to perfection. The result is a crunchy exterior that gives way to a soft and sweet banana filling. We then drizzle a generous amount of honey to add a natural sweetness and a touch of indulgence.
This dessert is perfect for those who want to satisfy their sweet tooth while getting nutritional benefits. Bananas are a good source of fiber, vitamins, and minerals, while honey is a natural sweetener with antioxidants and anti-inflammatory properties!
Sweet Thai Food #4: Black Rice Pudding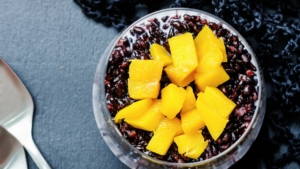 Are you looking for sweet Thai food that is IG-worthy and peculiar? Yummy Thai Flower Mound's Black Rice Pudding is a dessert that will catch your eye and satisfy your taste buds. This unique Thai dessert is made from black glutinous rice cooked in coconut milk and sweetened with palm sugar. The result is a rich, creamy, and flavorful pudding with a unique texture and taste. The black glutinous rice gives the pudding a striking dark color that looks beautiful when served, making it a perfect dessert to impress your Instagram followers!
Aside from its stunning appearance, black rice pudding is also packed with nutritional benefits. Black glutinous rice is a good source of fiber, protein, and antioxidants that help boost your immune system and improve digestion. The coconut milk in the pudding is also rich in healthy fats and vitamins, making it a great addition to your diet!
Sweet Thai Food #5:Sticky Rice With Durian
Sticky Rice With Durian may be your best pick if you're adventurous. Durian is a tropical fruit known for its strong aroma and creamy texture. Some like it, while others find it overpowering. 
At Yummy Thai Flower Mound, we offer Sticky Rice With Durian, a sweet and sticky dessert that combines the creaminess of durian with the chewiness of glutinous rice. The rice is cooked in coconut milk, sweetened with sugar, and then served with fresh durian fruit. This dish is a unique dessert that has a combination of sweet, creamy, and nutty flavors.
While it may not be for everyone, Sticky Rice With Durian is a must-try, especially if you enjoy bold and exotic flavors.
Sweet Thai Food #6: Pearls in Coconut Milk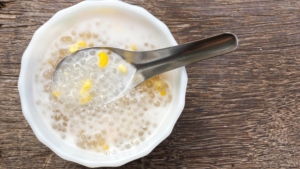 If you're a boba or bubble tea fan, you'll love Yummy Thai Flower Mound's Pearls in Coconut Milk. This sweet Thai food features tapioca pearls cooked to perfection and mixed with sweet coconut milk, giving it a creamy and sweet flavor. It's a simple yet satisfying dessert perfect for anyone looking for a sweet treat to cool off on a hot day.
Tapioca pearls are small, chewy balls made from tapioca starch and are a popular ingredient in many Southeast Asian desserts. When combined with the rich and creamy coconut milk, the tapioca pearls create a unique and satisfying texture that's sure to please your taste buds! They are often used in bubble tea or boba drinks along with those big black pearls, but they can also be used in desserts like this one.
Indulge In Some Sweet Thai Food Today!
And that caps off our list of must-try sweet Thai food desserts! From the classic mango sticky rice to the more adventurous sticky rice with durian, there's a dessert for everyone to enjoy. Whether you're in the mood for something creamy, chewy, or refreshing, the Yummy Thai Flower Mound desserts will satisfy your sweet tooth.
So why not treat yourself to some delicious Thai desserts today? Head over to Yummy Thai Flower Mound and try out our selection of sweet treats. We're sure you won't be disappointed!
More like this:
A World of Flavor Awaits: 4 Delicious Vegetarian Thai Recipes to Try!
Thai Cravings: Top 10 Signature Thai Foods You'll Crave After Just One Taste!
Spicy Thai Food: 7 Awesome Dishes That Will Set Your Mouth On Fire!
10 Thai-Inspired Thanksgiving Food Ideas for a Delicious Holiday Meal!
8 Must-Have Thai Ingredients for Your Next Awesome Dishes
4 Dairy-free Thai Foods That Would Satisfy Your Diet and Cravings!
8 Gluten-Free Thai Food: A Delicious, Guiltless Adventure!