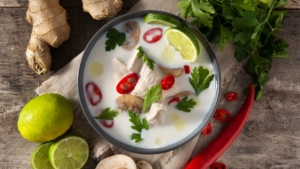 If you're on a dairy-free diet, you know that it can be tough to find Thai food that doesn't include milk, cheese, cream, or anything dairy. 
But worry not, we've got you covered! In this blog post, we'll share some traditional dairy-free Thai food you probably didn't know about. So whether you have a dairy allergy or it's the diet you're comfortable with, you can still enjoy these delicious recipes without sacrificing your dietary needs!
Dairy-free Thai Food #1: Pad Thai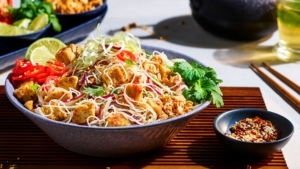 Pad Thai is one of the most popular Thai dishes and yes,  it's dairy-free! This dairy-free Thai food is made with rice noodles, tofu, vegetables, and a delicious sauce. All you have to do now is make sure the sauce doesn't include any dairy products. Chicken, tofu, or organic ground beef may all be substituted for shrimp. Any veggies you have on hand will also do; however, bell peppers taste particularly fantastic with them.
Here's How to Prepare This Dairy-free Thai Food:
Soak the noodles in hot water for 12 minutes, or until tender. Drain afterward.

In a small bowl, whisk together the ketchup, fish sauce, sugar, and crushed pepper while the noodles are hydrating.

To make the shrimp, heat 2 teaspoons of oil in a large skillet over medium-high heat. Add the shrimp and saute for 3 minutes. Once they are cooked through, remove them from the skillet and keep them warm.

Add the remaining 4 teaspoons of oil to a saucepan and bring to medium-low heat. Add the eggs and cook for 30 seconds, or until soft-scrambled. Top with sprouts, green onions, and garlic; stir for 1 minute.

Cook the noodles, ketchup mixture, and shrimp for 3 minutes or until heated through.

For a truly tasty pad Thai dish, divide the cooked noodles and meat evenly between two plates. Top with fresh chopped peanuts and garnish with a lime wedge before serving. Enjoy!
Dairy-free Thai Food #2:Tom Yum Soup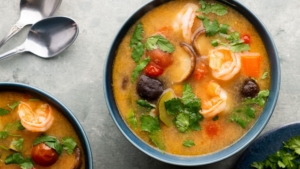 Tom Yum soup is a delicious, dairy-free Thai food that's perfect for fall and winter. This soup is made with lemongrass, galangal, kaffir lime leaves, shallots, and chili peppers. It's also usually made with shrimp, chicken, or beef. Tom Yum soup is dairy-free as long as you don't add any dairy products to the broth.
Here's How to Prepare This Dairy-free Thai Food:
First, heat oil in a large pot over medium-high heat. Next, add lemongrass and let it cook until fragrant; this should take about 3 minutes. Then, add onion and let it sauté around the edges until golden yellow; give it about 5 minutes. Finally, add garlic and galangal. Stir constantly while these ingredients become fragrant; once again, this process should only take 1-minute maximum.

Add vegetable broth, chilies, and lime leaves to a saucepan. Cover and simmer until the flavors have infused, about 20 to 25 minutes. Reduce the heat to medium-low and cook for another 10 to 15 minutes.

Use either tongs or a slotted spoon to take out the lemongrass from the soup. Then, add tomatoes and mushrooms before letting it simmer uncovered until the mushrooms have softened (about 5 minutes). 

Add lime juice, tamari, sugar, and coconut milk afterward; stirring each one in so that they mix well together. And once you're done with that…taste it! If it needs more Sriracha (usually 1 tablespoon does the trick but adjust according to taste), then add some in; as well as more lime juice if needed.)
Dairy-free Thai Food #3: Som Tam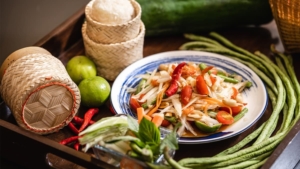 Som tam is a Thai salad made of shredded, unripe papaya, carrots, long beans, peanuts, tomato, and chili pepper. This dairy-free Thai food dish is usually has lime juice and fish sauce as well to add more tanginess and saltiness respectively to the mix. It is popular street food in Thailand that is brightly bursting with flavors–a must-try for anyone who enjoys spicy dishes and healthy salads. 
Here's How to Prepare This Dairy-free Thai Food:
Start by washing and peeling the green papaya, then cut off the stem. You can remove the seeds by cutting the papaya in half at this stage. Once it's shredded, you have the option of soaking it in ice water for 10 to 15 minutes to get rid of any excess white milky substance (papain), which will make it crunchier. If necessary, you can 'scrub' it gently with salt for a minute or two before rinsing if there seems to be an abundance of milkiness.

Similarly, shred the carrots and cut the tomatoes into halves. If you have to use larger tomatoes, cubes are fine. At the same time, lightly toast the peanuts in a dry pan for 1-2 minutes until fragrant.

In a stone bowl or mortar, combine the fish sauce (or salt), sugar, chilies, garlic, lime juice (and zest if using), and tamarind. Use the pestle to mash them into a paste-like consistency.

Carrots, green beans, and a few other ingredients get lightly mashed with the pestle. Afterward, add in the shredded papaya and remaining carrots & beans. Use the pestle once more to make sure everything is evenly mixed without bruising the ingredients too much.

Add the tomatoes and peanuts, then use the pestle to gently combine the ingredients (don't crush them too much). The tomato should only be slightly "mashed," not completely crushed. 

Add more chili for heat, salt/fish sauce for flavor, and "punch," if necessary. The Thai Som tam salad is now ready to eat!
Dairy-free Thai Food #4: Panang Curry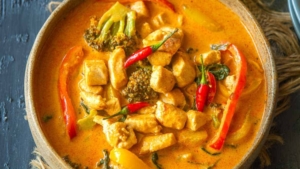 Panang curry is a type of Thai red curry that is usually made with beef or chicken but can also be made dairy-free. It gets its name from the Panang Island off the west coast of Thailand and is known for being one of the spicier curries. Dairy-free Panang Curry recipe is easy to follow and make at home. All you need is a pan, some dairy-free coconut milk, curry paste, and your choice of protein (tofu, tempeh, or seitan would work well in this dish).
Here's How to Prepare This Dairy-free Thai Food:
In a large wok or skillet, sauté garlic in oil until fragrant (about 30 seconds). Add onions and peppers and cook for 2-3 minutes, or until slightly tender. Push all the veggies to the side and add Panang curry paste to the middle of the wok.

Fry the curry paste for a few seconds in addition to some of the existing oil in the pan before combining it with the vegetables. Stir in the coconut milk and combine until the sauce is smooth and well-blended. Add half of the basil leaves, tofu, and salt. thoroughly mix

Cover and simmer on low heat for 5 minutes, or until the curry boils gently. Add peanut butter and soy sauce to the pot. Toss everything together thoroughly
Dairy-Free Worries No More!
Now that you know how to make dairy-free Thai food, there's no need to worry about what to cook for your next satisfying meal. With these recipes, you can have a delicious and dairy-free meal that will tantalize your taste buds and leave you feeling satisfied. 
So go ahead and give them a try! You won't be disappointed.
Also if you want to experience these dairy-free Thai dishes without having to cook them yourself, be sure to head to our restaurant or contact us and we'll satisfy your dairy-free cravings! 
More like this:
8 Gluten-Free Thai Food: A Delicious, Guiltless Adventure!
8 Magical Thai Sauces That Can Make Your Favorites More Satisfying
10 Delicious and Savory Thai Stir Fry Dishes You Don't Want to Miss!
8 Tender and Juicy Thai Meat Dishes You'll Love!
16 Thai Street Foods That You'll Definitely Love!
Thai Hangover Food: 8 Dishes That Will Calm Your Head and Give You That Extra Zing
15 Must-Try Thai Snacks You'll Never Forget