Waking up with a hangover is never fun. The headache, nausea, the sensitivity to light and sound… it's enough to make you wish you could just crawl back into bed and sleep the day away. The good news is that certain foods can help ease hangover symptoms and make you feel more like yourself again. And if you want to cure your post-party blues in a much more flavorful way, Thai hangover food is the way to go.
This article will explore eight of the best Thai hangover food that are guaranteed to make you feel better. So if you're looking for some relief from your hangover symptoms, read on!
Jungle Soup
Let's start with a hangover staple: soup. And not just any soup, but jungle soup, a Thai dish packed with ingredients known to ease hangover symptoms.
This spicy clear soup is made with herbs, bamboo shoots, galangal, fresh Thai pepper, eggplant, green beans, jalapeños, and more! Thus, this Thai hangover food will wake up your senses, help you feel refreshed, and eliminate that pesky hangover headache.
Tom Yum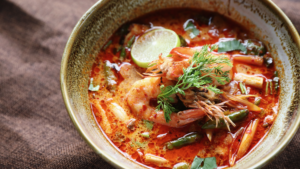 Of course, no list of Thai hangover food would be complete without tom yum. This iconic soup is made with lemongrass, kaffir lime leaves, galangal, shrimp, fish sauce, and lime juice, and it's a surefire way to chase away any hangover blues.
Tom yum is intensely flavorful and spicy, and it's the perfect pick-me-up Thai hangover food if you're feeling sluggish and tired. The best part is that this soup is super easy to find in Thai restaurants and can also be eaten with noodles!
Tom Kha
If you're looking for Thai hangover food that's a bit more creamy, tom kha is the way to go. This coconut milk-based soup is made with galangal, lemongrass, lime juice, kaffir lime leaves, cilantro mushrooms, and chicken or shrimp.
Tom kha has a milder flavor than tom yum, but it's just as effective in curing hangovers. The coconut milk will surely help you feel hydrated, while the ginger, lemongrass, and lime juice will help soothe your stomach.
Red Curry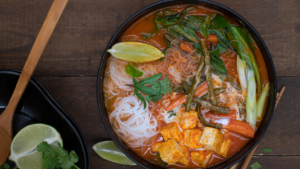 Thai hangover food doesn't always have to be soup-based. Another great option is red curry, a Thai dish made with coconut milk, curry paste, carrot, pumpkin, bell pepper, and basil.
Red curry is flavorful and spicy, but it's also relatively easy to digest. The coconut milk will help you refuel, and the spices will perk you up, making it the perfect Thai hangover food. This dish is also best eaten with rice for a filling and satisfying meal.
Veggie Noodle Tofu Mushroom Soup
Not all hangover foods need lots of chili or spice to be effective. This veggie noodle tofu mushroom soup is an excellent example of a hangover food that's both flavorful and gentle on the stomach.
This soup has a fresh and calming flavor because of its herbs, green onions, cilantro, and mushrooms. It's also packed with nutrients that will help you recover from your hangover.
Thai Hangover Food: Pad Wun Sen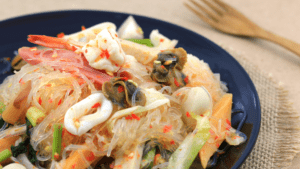 If you're looking for hangover food that's light and easy to digest, pad wun sen is a good option. This stir-fried rice noodle dish is made with shrimp, chicken, egg, bean sprouts, and scallions.
Pad wun sen is flavorful and filling, but it's not too heavy on the stomach. Thanks to the glass rice noodles, it's also a great way to rehydrate!
Steamed Sole Lime
While most hangover foods are savory, this steamed sole lime is an excellent option for those who want something filling and calming. This fish fillet dish is made with fresh lime, fish sauce, sugar, and chilies, and it's a great way to get some protein and nutrients into your system.
The lime in this dish will help soothe your stomach, while the fresh chilis will undoubtedly wake up your senses. This hangover food is also relatively light, especially without rice, so that it won't weigh you down.
Thai Drunken Noodles (Pad Kee Mao)
Of course, no list of hangover foods would be complete without the Thai drunken noodles! This popular Thai dish is made with wide rice noodles, chicken, shrimp, pork, and basil.
Drunken noodles are intensely flavorful and spicy, but they're also relatively easy to digest. The rice noodles will help you rehydrate, while the chicken, shrimp, and pork will give you some much-needed protein.
And while this dish is best eaten with a cold bottle of beer, it's also great for curing hangovers because of its spicy and flavorful nature.
Ready To Get Your Thai Hangover Food Fix?
No matter how bad your hangover may be, Thai food has covered you. So if you want to get rid of that heavy, foggy feeling, head to our restaurant or contact us to order now!
More like this:
15 Must-Try Thai Snacks You'll Never Forget
10 Delicious Thai Appetizers That Will Make Your Meals More Exciting
Fried Thai Food—10 Mouthwatering Dishes You'll Absolutely Crave
Thai Chicken Dishes That Everyone Loves
Mouth-Watering Thai Foods You'll Love at Yummy Thai Flowermound
How to Enjoy Thai Food at Restaurants – Norms & Traditions
Famous Thai Soups That Are Worth Trying!