Whether you're looking for a fresh, savory, or sweet appetizer to serve with your main dish, the rich and flavorful collection of Thai cuisine will surely not disappoint you. And if you want to level up your taste with your next meals in no time, you are in luck! We've listed down ten of the most delectable and mouthwatering Thai appetizers that will definitely elevate your eating experience!
Thai Appetizers: Sai Krok Isan
If you want to start your meal with a savory dish, then Sai Krok Isan would be perfect for you! With just the right amount of sourness, spice, and saltiness, this Thai appetizer will definitely enliven your taste buds and stimulate your appetite to crave more!
Furthermore, these fermented sausages are loaded with the nutrients and complementing flavors of pork, garlic, and cooked sticky rice. This perfect combination of protein, carbohydrate, and fat will surely make your whole meal much more healthy and satisfying!
Chicken Satay
An authentic and traditional appetizer in Thai cuisine, chicken satay is definitely a crowd-pleaser! It's ideal for parties because of its rich savory flavor and succulent texture. More so, the charred and crispy chicken on a skewer is an excellent combination with a bowl of steamed rice!
Just a friendly tip: serve this Thai appetizer with peanut sauce and cucumber salad, and your friends and loved ones will surely have a blast!
Kai Ho Bai Toei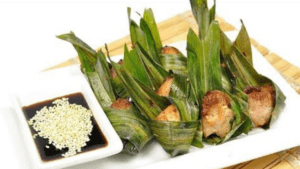 Another popular chicken Thai appetizer is Kai Ho Bai Toei. Wrapped in pandan leaves, these flavorful and savory chunks of chicken will not only boost your appetite but also stimulate all of your senses! And because of its melt-in-your-mouth tender texture, it won't be hard to finish this dish in minutes!
Thai Fish Cakes
We've just gone over the savory favorites, now how about some crunchy-licious Thai appetizers to munch on? Also known as classic street food, Thai fish cakes are tasty bites that will surely put your taste buds to attention! With its aromatic kaffir lime leaves and hints of chili this appetizer is an excellent way to jumpstart your meal!
Veggie Rolls
Now, why not something a bit healthier? Stuffed with the fresh and crisp combination of cucumber, lettuce, pineapple, carrot, and rice vermicelli noodle, this Thai appetizer is one you shouldn't miss!
It may resemble a regular spring roll recipe but this dish is enriched with the pleasing twist of sweet and sour flavors that will surely make your mouth water! Just don't forget to eat it with peanut sauce and you're in for a treat!
Spring Rolls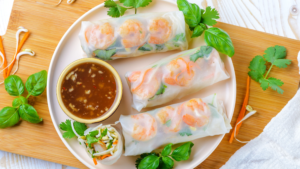 A popular snack all over Asia, fresh spring rolls are ideal to serve on your next get-togethers! Similar to the veggie rolls, this Thai appetizer offers the fresh and crunchy taste that makes it a favorite for many!
Filled with fried tofu, carrot, bean sprouts, and cucumber, your taste buds will surely dance with every bite of this dish. And if you serve it with tamarind sauce, you expect all these flavors to burst in your mouth!
Baby Egg Rolls
Looks like we're on the roll today with this another set of Thai rolls! Crispy on the outside and flavorful within, this appetizer is a must-try! Stuffed with chicken, shrimp, egg, cilantro, glass noodle, and onion, every bite of the baby egg rolls will make your mouth water!
And if you want to make it a little more interesting, try dipping it in the sweet and sour sauce!
Gluay Kag (Thai Fried Bananas)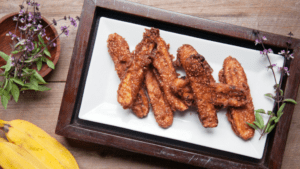 Now, if you're one of those who love sweet and savory dishes, Thai fried bananas or Gluay Kag is the perfect appetizer for you! This traditional Thai dish will show your guests that you can cook delectable and delicious meals in no time.
With just a few ingredients such as sugar, rice flour, shredded coconut, baking powder, and of course, bananas, this appetizer will definitely satisfy your taste buds!
And in case you want to make it even more interesting, drizzle some chocolate syrup or cinnamon powder and top it with some ice cream!
Thot Man Khao Phot (Thai Corn Fritter)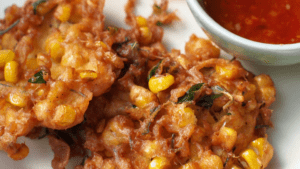 Another quick and easy dish to make for your guests, thot man khao phot or Thai corn fritter is a tasty appetizer that you can finish in minutes! All you need is to deep fry a rich mixture of corn kernels, rice flour, egg, baking powder, red curry paste, and basil or lime leaves, and you're good to go!
With the hint of sweetness coming from the corn and the intense flavor of red curry paste, this crunchy Thai appetizer will surely wake up your senses!
Thai Cucumber Salad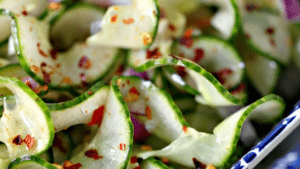 Now if you've really got no time to cook, or you just want to experience authentic Thai food, Thai cucumber salad is one you must try! This fresh and flavorful mixture of cucumber, carrot, lettuce, red onion, lime, and Thai dressing is definitely a perfect way to start your meal!
And That's a Wrap!
So there you have it, 10 Thai appetizers that will surely entice your taste buds! If you want to try out any of these with your family or friends right away, contact us or book your order and we'll make sure you get only the best of the best Thai food in town!
More like this:
Fried Thai Food—10 Mouthwatering Dishes You'll Absolutely Crave
Thai Chicken Dishes That Everyone Loves
Mouth-Watering Thai Foods You'll Love at Yummy Thai Flowermound
How to Enjoy Thai Food at Restaurants – Norms & Traditions
Famous Thai Soups That Are Worth Trying!
Yummy Thai Flowermound Top Menu Picks
Healthy Thai Noodles To Keep You Warm