Because of their mesmerizing crunch and savory flavors, fried Thai food can surely make any meal much more enjoyable. And if you are in search of the next dish you're about to try, look no further! In this article, we'll share everything you need to know about our favorite fried Thai food recipes you'll definitely drool over.
Squid Breaded Garlic Sauce
Sounds familiar? Well, this isn't a game that kills, nor you'll get billions from but it's something you'll find hard to get over. These deep-fried, crispy squid topped with fried garlic are perfect for your afternoon and nighttime snacks. Because they're covered with marinade and breading, you'll hear the satisfying crunch with every bite you take and ascend to a heavenly dimension. 
To make the experience much more flavorful, most restaurants serve this fried Thai food with sriracha sauce. And while it's best eaten as a snack with a cold beer or any other beverage, it also pairs perfectly with hot, steamed rice. 
Tod Mun Pla (Thai Fish Cakes)
Tod Mun Pla or Thai fish cakes are one of the most popular street food in Thailand. This fried Thai food is perfect for those who fancy red curry as its main source of flavor is well, the legendary Thai red curry paste.
While Thai fish cakes are among the easiest finger foods to prepare, picking the right fish is a must when cooking these. The softer the fish, the more tender fish cakes you'll get. Nonetheless, there are a lot of kinds of fish you can choose from in making this dish–there's tilapia, basa, salmon, and ling. 
For the best experience, you can top Tod Mun Pla with fried basil leaves and serve it with sweet and sour sauce, and cucumber salad. 
Fried Turmeric Chicken
One of the most popular flavors that make Thai food distinct is that of turmeric. And you can experience the tasty, soothing effect of this spice in this mouthwatering fried Thai food.
The fried turmeric chicken is perfect for both kids and adults who want a crispy, filling dish. Its crunchy outside can make anyone drool, while its moist, juicy inside makes it incredibly satisfying. And just like the Thai fish cakes, this dish is best served with chili sweet and sour sauce and some vegetables. 
Shrimp In Blanket
Don't judge a book by its cover. That's what people say. And this fried Thai food can definitely affirm the popular idiom.
Also known as firecracker shrimp, the shrimp in blanket is a filling snack with goodness that transcends its visuals. These deep-fried pieces of shrimp covered in spring roll sheets can pair perfectly with beer or a cold bottle of soda. To make them much tastier, these crunchy, finger snacks can also be dipped in sweet and sour sauce. 
Sai Oua
Fried Thai food prides itself on its diverse and amazing flavors. And these flavors can be experienced in every bite of Sai Oua. 
Sai Oua or Northern Thai sausage is a fusion of sweet and spicy elements coming from chopped turmeric, dried chilies, and the right amount of sugar. This fried Thai food also radiates a unique scent because of the blend of lemongrass, coriander, and spring onion.
For the fullest experience, you can eat Sai Oua with roasted peanuts, fresh ginger, and chilies. 
Crab Rangoon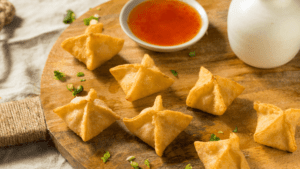 Another finger food that will satisfy your tastebuds and stomach on our list is crab rangoon. This fried Thai food perfectly blends the goodness of crab, cream cheese, and celery, all wrapped in a tasty wonton wrapper. 
Similar to the other fried dishes, crab rangoon is perfect as a snack and is best eaten with sweet and sour sauce. 
Crispy Pork Belly with Garlic Sauce
If you want a dish for a filling lunch, then the crispy pork belly with garlic sauce is the one you're looking for. With its crunchy skin and savory meat inside, this fried Thai food will satiate your hunger while making you crave for more. 
The crispy pork belly with garlic sauce is best served with fried garlic toppings and sriracha sauce for a more flavorful experience.
Fried Tofu
Fried tofu is another popular street food in Thailand. As you may have presumed from its name, it's deep-fried tofu that's often served with crushed peanut and sweet and sour sauce. Because of its crispy outer layer and soft inside, this fried Thai food is a good comfort dish that also serves as a filling snack for any time of the day. 
Sai Krok Isan
Of all the fried Thai food on our list, perhaps this one's the most complicated one to prepare. However, because of its rich flavors, Sai Krok Isan is definitely worth every second of its preparation. 
The dish originated from Isan or Isaan, a region from Thailand, and is made with pork fermented to perfection. Similar to Sai Oua, it is best eaten with chili, roasted peanuts, and fresh ginger. 
Fried Quail
And the last, but definitely not the least in our list is the fried quail. While the dish seems pretty simple, this fried Thai food is one you'd always look for, especially when you're in Thailand. Fried quails are prepared by deep-frying quail eggs and topping them with fried garlic. They also go perfectly with lime salt, black pepper, and sriracha sauce. 
Apart from being famous street food, fried quail is also popular amongst kids and kids at heart who love to enjoy light, yet satisfying finger snacks. 
We Heard That!
That's your stomach growling, isn't it? Don't worry, we understand! And the good news is, you won't have to wait for your next family get-together or stroll in the park to try these enticing dishes. If you want to have a taste of their diverse and rich flavors with a crunch right away, just head over to our restaurant or order from us online and we'll bring them right to your doorstep! 
Thanks for reading
Fried Thai Food—10 Mouthwatering Dishes You'll Absolutely Crave
! Don't hesitate to contact us if you want to finally satisfy that craving!  
More like this:
Thai Chicken Dishes That Everyone Loves
Mouth-Watering Thai Foods You'll Love at Yummy Thai Flowermound
How to Enjoy Thai Food at Restaurants – Norms & Traditions
Famous Thai Soups That Are Worth Trying!
Yummy Thai Flowermound Top Menu Picks