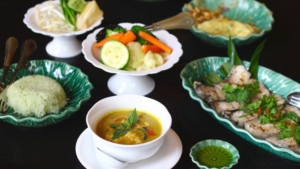 If you are looking for a satisfying meal experience that suits your diet, Thai food is the perfect option! Thai cuisine features flavors and ingredients that are not found in other cuisines, making it a fun culinary adventure for gluten-free eaters. 
And in this blog post, we will explore some of the most popular Thai dishes that are gluten-free. We will also provide tips on how to order gluten-free Thai food when you are out at a restaurant. Let's begin!
A Gluten-Free Thai Food Tip!
One of the great things about Thai food is that there are many gluten-free options available. Some of the most popular dishes include Pad Thai, Fried Rice, and Curry. All of these dishes can be made gluten-free by simply ordering them without the addition of wheat noodles or soy sauce.
When you are ordering gluten-free Thai food at a restaurant, it is important to communicate your dietary needs to the waitstaff. Be sure to let them know that you are on a gluten-free diet and ask about any ingredients that may be in question. With a little bit of communication, you'll definitely enjoy your food without any worries at all!
Tom Kha Gai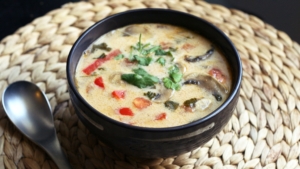 Tom Kha Gai soup is a gluten-free Thai food made with chicken, coconut milk, galangal, and lemongrass. It is a delicious and fragrant soup that is perfect for gluten-free diners looking for a light and flavorful meal.
Som Tam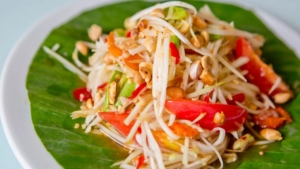 This papaya salad is definitely a healthy, refreshing treat anyone can enjoy! Green papaya is high in vitamins and contains specific enzymes that aid digestion. And in this gluten-free Thai food, the papaya is combined with carrot and tomatoes, as well as a dressing of coconut sugar, lime, and fish sauce—making it burst with awakening flavors!
Tom Yum
Tom yum is among the most popular soups in Thailand. The main ingredient is a paste made from chili, lemongrass, and spices. The soup is cooked with chicken or seafood and vegetables, then served hot with a wedge of lime to squeeze in. Gluten-free diners can enjoy this delicious soup as long as the noodles are left out.
Pad Thai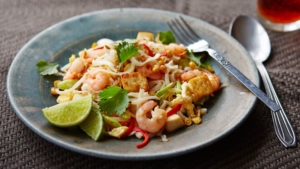 Pad thai, is, of course, one of the popularly known dishes in Thai cuisine It is typically made with chicken, shrimp, or tofu and is flavored with tamarind sauce, fish sauce, and palm sugar. While it's not naturally gluten-free, you can make your own with gluten-free sauces or order it without soy sauce.
Gaeng Daeng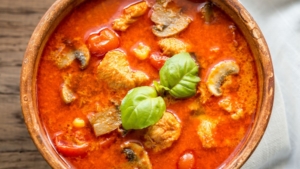 This gluten-free Thai food is definitely perfect for a filling meal. Gaeng Daeng is made with red curry paste, coconut milk, and your choice of protein. Many curries are naturally gluten-free, making them a safe meal for those avoiding flour and wheat. 
Thai curries usually consist of coconut milk (or water), curry paste, and herbs as their base. Then different meats, seafood, vegetables, fruits, and spices are added. 
Yam Mamuang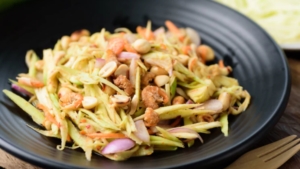 This green mango salad is a gluten-free Thai food made with green mango, chili, and peanuts. This dish is perfect for gluten-free eaters looking for a light and refreshing meal. The green mango salad is a popular dish in Thailand and is often served as an appetizer or side dish.
Satay with Peanut Sauce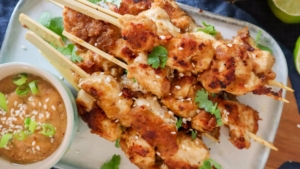 This dish is perfect for gluten-free eaters looking for skewers of chicken, shrimp, or beef. It is often marinated in coconut milk with peanut sauce for dipping. The peanut sauce is a key component of this dish and is made with peanuts, coconut milk, and chili paste. Just ensure that the peanut sauce does not contain oyster sauce, fish sauce (if wheat-based), or soy sauce (unless gluten-free).
Coconut or Green Tea Ice Cream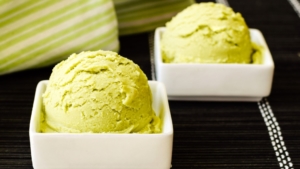 Gluten-free Thai ice cream comes in many flavors, but some of the most popular include coconut, green tea, and mango. These gluten-free ice cream options are perfect for those with a sweet tooth. Just be sure to check if it contains wheat flour as a thickener!
Tips: Dishes/Ingredients to Avoid or Request a Gluten-Free Substitution
As you can see, there are many gluten-free Thai food options available. However, there are also some dishes and ingredients that you should avoid or request an alternative for. Some of these include:
Noodles (unless they are gluten-free)

Soy sauce (unless it is gluten-free)

Oyster sauce

Fish sauce (if wheat-based)

Wheat flour (as a thickener)

Teriyaki

Deep-fried foods, such as Thai fried banana

Seasoned rice

Soba noodles (if made with wheat)

Brown gravy (usually thickened with flour).
There You Have It, A Gluten-Free Thai Food Experience!
We hope this article has helped you figure out which gluten-free Thai food you should try out next! You can always explore different Thai recipes and use gluten-free ingredients to make your meals much more exciting despite being guilt-free.
But in case you want that gluten-free Thai food experience now, head to our restaurant or contact us and we'll satisfy your cravings! 
More like this:
8 Magical Thai Sauces That Can Make Your Favorites More Satisfying
10 Delicious and Savory Thai Stir Fry Dishes You Don't Want to Miss!
8 Tender and Juicy Thai Meat Dishes You'll Love!
16 Thai Street Foods That You'll Definitely Love!
Thai Hangover Food: 8 Dishes That Will Calm Your Head and Give You That Extra Zing
15 Must-Try Thai Snacks You'll Never Forget
10 Delicious Thai Appetizers That Will Make Your Meals More Exciting