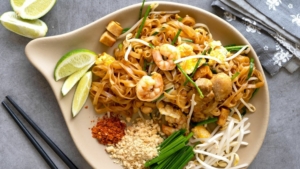 Feeling some Thai cravings? If so, you're not alone! Thai cuisine is one of the most popular in the world, and for good reason–it's delicious! The combination of sweet, sour, salty, and spicy flavors always leaves you wanting more. It's also incredibly healthy, which is why so many people love it. In this blog post, we'll explore the most popular Thai cravings and give you a taste of the dishes you shouldn't miss out on!
Thai Cravings #1: Pad Thai (Stir-Fried Noodles)
Thanks to Chinese immigrants, Thailand has become renowned for its mouthwatering noodle dishes–Pad Thai being the most popular of them all! If you're looking for a quick and easy way to have your Thai cravings satisfied,  this stir-fried aromatic delight is an absolute must!
Like many Thai delicacies, the regional variants of Pad Thai are abundant; however, its classic ingredients remain unchanged: flat rice noodles accompanied by fish, chicken, pork, or tofu depending on preference. Paired with dried shrimp and tamarind to create a savory experience along with bean sprouts which add textural contrast. Finally, the dish is topped off with roasted peanuts for crunchiness as well as fresh herbs and chili for an exquisite combination of sweet-sour-salty flavors that will have your Thai cravings satisfied in no time!
Thai Cravings #2: Tom Yum Goong (Hot & Sour Shrimp Soup)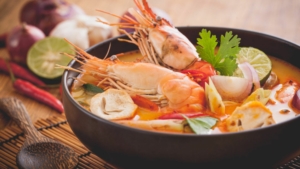 After a hectic day, nothing quite compares to the mouth-watering dish that is sure to please your Thai cravings. Across the world, this Thai delicacy has been appreciated for its unique fusion of lip-smacking piquant and sour flavors. Its succulent ingredients – lemongrass, galangal root, kaffir lime leaves, shallot, Thai chili, and lime juice – blend together like magic! If you're looking for an extra kick of flavor in your bowl then mushrooms or plump prawns are just the yummy toppings needed to make this traditional favorite complete.
Thai Cravings #3: Kaeng Lueang (Yellow Curry)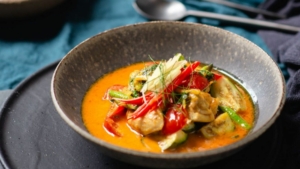 This tempting Thai specialty offers a harmonious combination of flavorful spices, coconut milk, and fresh vegetables. The vibrant yellow hue comes from an aromatic blend of red chili peppers and garlic that gives the dish its unique taste. To balance out this culinary medley, chefs add palm sugar for sweetness, fish sauce for saltiness, and tamarind to provide tartness – giving it a perfect harmony of tastes! A variety of veggies such as bell peppers, potatoes, or sweet onions can be added based on personal preference – making every bowl of this Thai Craving truly one-of-a-kind!
Thai Cravings #4: Khao Pad (Thai Fried Rice)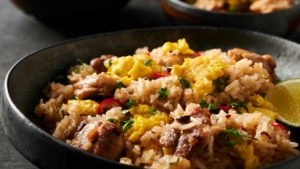 If you're having Thai cravings, this must-have dish should definitely be on your radar! To make the most of its flavor profile and texture, top-quality Thai Jasmine Rice is key. This aromatic long-grain rice adds an unforgettable taste that foodies everywhere can't resist. Combining eggs, garlic, onions, and veggies like carrots and peas brings everything together for a complete meal that's equally delicious as it is nutritious – enjoy it alone or with other dishes from Thailand!
Thai Cravings #5: Gai Pad Med Ma Muang (Chicken Cashew Nut)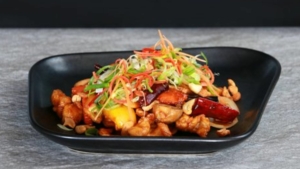 This Thai craving is definitely not one to miss! The chicken cashew nut dish is a delectable mix of crispy fried chicken bites, roasted cashews, and Thai herbs. It's the perfect balance of sweet, salty, and spicy – one that will have you coming back for more! 
For vegetarians, tofu can be substituted in this Thai craving instead of chicken. The addition of Thai chili paste and garlic, along with the Thai basil leaves makes this a Thai favorite that you won't forget!
Thai Cravings #6: Khao Niew Mamuang (Mango Sticky Rice)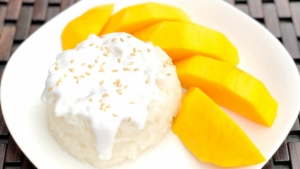 This Thai craving proves that Thai cuisine doesn't always have to be spicy and savory! Mango sticky rice is composed of Thai sweet glutinous rice cooked in coconut milk, topped with fresh mangos, and then sprinkled with sesame seeds. The creamy texture of the coconut milk combined with the sweetness of Thai mangos makes this a dessert that's sure to please Thai cravings and satisfy your sweet tooth! What's even better, is that you can enjoy this Thai craving all year round – no matter what season it is.
Thai Cravings #7: Som Tam (Spicy Green Papaya Salad)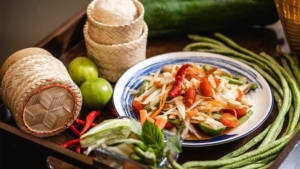 If you've been dreaming of a unique fusion of sweet, sour, and spicy flavors, Som Tam is your answer. This tantalizing Thai dish will offer an extra crunch that comes from the tomatoes, garlic, and dried shrimp added together in a mortar and pestle. The piquancy comes from the addition of Thai chili peppers, lime juice, and fish sauce. For subtle sweetness that will tantalize your taste buds – Thai basil leaves, crushed peanuts, long beans, and cherry tomatoes join forces with the other ingredients creating an irresistible must-have for any true connoisseur of Thai cuisine!
Thai Cravings #8: Pad Kra Pao Moo (Stir-Fried Thai Basil & Pork)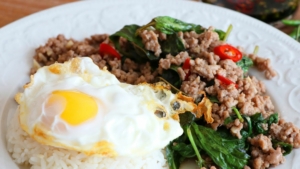 Indulge your taste buds on a journey of flavors with this Thai craving! With its savory pork, chilies and fragrant Thai Basil leaves combined together – it's an explosion in your mouth. Serve the dish over some juicy Jasmine rice and top it off with a fried egg for extra indulgence. To give that authentic wholesome taste – Fish sauce and oyster sauce are essential ingredients to really make those flavors come alive! The finishing touch is the rich aroma from spicy yet sweet Thai basil leaves which will linger in your memory forever!
Thai Cravings #9: Chicken Satay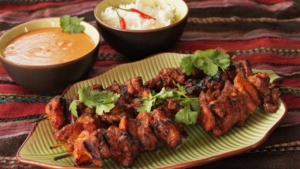 Next on our list is these deliciously marinated chicken skewers, grilled to perfection and drenched in an array of aromatic spices for a mouth-watering meal. Sweetness, saltiness, and acidity come together in the marinade for an irresistible flavor that makes every bite sumptuous. Paired with a peanut sauce that compliments everything perfectly–what more can one ask for? You can enjoy it as an appetizer or main course – either way, you won't be disappointed! 
Thai Cravings #10: Khao Soi (Thai Coconut Curry Noodle Soup)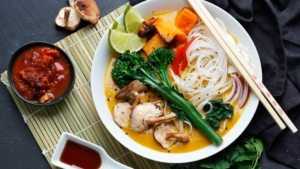 If you're looking for a savory, comforting dish that will please your taste buds and keep you coming back for more, Thai Khao Soi is the perfect option. With its rich coconut curry broth combined with perfectly cooked noodles and succulent chicken pieces, each bite bursts with flavor from the delicate balance of herbs and spices. To top it off? The added crunch of fried noodles provides an extra special something that we guarantee will have you addicted!
Thai Cravings Satisfied!
It's time to get those Thai cravings satisfied! Whether you're a fan of flavorful curries, spicy salads, or sweet desserts – Thai cuisine has it all and more.
So what are you waiting for? Come visit us at our restaurant! Our chefs serve up only the most authentic flavors of Thailand's cuisine–freshly made and lightning-fast. Let us satisfy your Thai cravings today!
More like this:
Spicy Thai Food: 7 Awesome Dishes That Will Set Your Mouth On Fire!
10 Thai-Inspired Thanksgiving Food Ideas for a Delicious Holiday Meal!
8 Must-Have Thai Ingredients for Your Next Awesome Dishes
4 Dairy-free Thai Foods That Would Satisfy Your Diet and Cravings!
8 Gluten-Free Thai Food: A Delicious, Guiltless Adventure!
8 Magical Thai Sauces That Can Make Your Favorites More Satisfying
10 Delicious and Savory Thai Stir Fry Dishes You Don't Want to Miss!