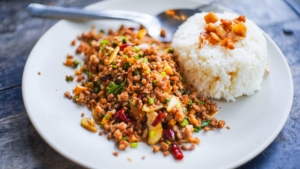 If you're looking for a spicy culinary adventure, look no further than Thai cuisine! This style of cooking is famous for its spicy flavors, and it's sure to set your taste buds on fire. In this blog post, we will explore five of the most delicious and spicy Thai food recipes that will surely give you a taste of Thailand. So, get ready to experience some serious heat!
Spicy Thai Basil Chicken (Pad Krapow Gai)
This unmistakably spicy Thai food delicacy offers an unparalleled flavor, even when regular basil is used instead of the traditional Thai or holy variety. As you stir-fry this mixture over a high flame, the sauce will form a glossy glaze that coats each ingredient for maximum scrumptiousness. To truly bring out its extraordinary taste and texture, be sure to prepare all ingredients beforehand – namely grind your own meat or chop it as finely as possible!
This spicy Thai food is also best served with steamed jasmine rice or khao tom (rice porridge) for a real, satisfying Thai experience.
Spicy Thai Noodles  (Pad Kee Mao)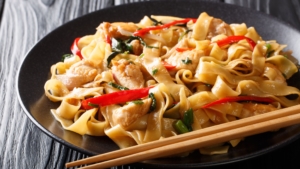 Ready to heat up your next weeknight dinner? Look no further than this delicious spicy Thai food – Thai drunken noodles recipe! This traditional spicy Thai food is packed with bold flavors, featuring flat rice noodles and savory vegetables simmered in a spicy chili sauce. And the best part is it's simple to make using everyday ingredients you may already have on hand. 
So if you're looking for an easy-to-make yet flavor-packed meal, give these spicy Thai drunken noodles a try tonight!
Sweet and Spicy Thai Chicken
This spicy Thai food is the perfect dish for when you're feeling adventurous and craving something spicy! The classic sweet-and-spicy flavors come together to create a truly unique flavor that will tantalize your taste buds. 
In this dish, pieces of chicken are marinated in a spicy paste before being deep-fried until crispy and golden brown. Serve this spicy Thai dish with jasmine rice and your favorite vegetables for a scrumptious meal!
Spicy Thai Coconut Soup (Tom Kha Gai)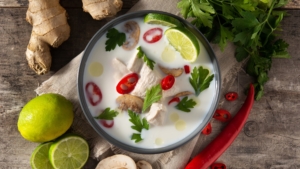 This spicy Thai food is a classic favorite that's sure to satisfy your spicy cravings! This coconut soup is made with creamy coconut milk and savory vegetables, all simmered together in a spicy chili broth. The result is an exquisite mix of flavors that will leave you craving for more! Serve it as the perfect appetizer or enjoy it alongside rice for a complete meal. Let this delicious spicy Thai food tantalize your taste buds and pair it with your comfort drink!
Gaeng Tai Pla (Spicy Thai Fish Curry)
Gaeng Tai Pla, a fiery dish from Southern Thailand, has been crowned one of the spiciest Thai recipes. So if you're brave enough to try this curry and your waiter gives you an eyebrow-raising warning about its intensity – don't be alarmed! They are simply looking out for your well-being.
An ode to Southern Thai cuisine, this dish combines the expected dried chilies, galangal, turmeric, and kaffir leaves with some unique ingredients such as fermented fish innards, fish meat, and pumpkin cubes. eggplant slices, yardlong beans, and bamboo shoots – making it a combination of salinity and fiery spiciness that will knock your socks off!
Pad Prik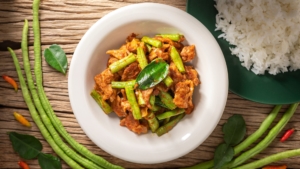 If your tolerance for spicy Thai food is off the charts, then this Pad Prik is a must-try dish. This spicy stir-fried vegetable dish features spicy Thai chilies, garlic, and other vegetables cooked in a spicy sauce. The result is an intense spicy flavor that's sure to make your eyes water! Serve this spicy dish with steamed rice and you won't be disappointed. 
Laab
Want to spice up your usual salad? Look no further than Laab! This spicy salad is made with minced pork, beef, or chicken and tossed with spicy chili, fish sauce, lime juice, and fresh herbs. It's spicy, savory, and delicious – the perfect side dish for your spicy Thai feast! It's also great for family gatherings and can easily be customized to suit everyone's spicy threshold.
Heat things up with spicy Thai food!
No matter what spicy Thai food you decide to create, every spicy and savory flavor is sure to tantalize your taste buds. From spicy noodles to sweet-and-spicy chicken to creamy coconut soup, each dish packs a flavorful punch – perfect for when you're craving something spicy! So grab your ingredients and get cooking – the delicious spicy Thai foods await! Enjoy!
You can also visit and contact our restaurant website to try our spicy Thai food dishes NOW. We offer both spicy and non-spicy Thai food options for those who want to enjoy the best Thai flavors without burning their mouths. Contact us today to learn more about what we have in store for you! 
More like this:
10 Thai-Inspired Thanksgiving Food Ideas for a Delicious Holiday Meal!
8 Must-Have Thai Ingredients for Your Next Awesome Dishes
4 Dairy-free Thai Foods That Would Satisfy Your Diet and Cravings!
8 Gluten-Free Thai Food: A Delicious, Guiltless Adventure!
8 Magical Thai Sauces That Can Make Your Favorites More Satisfying
10 Delicious and Savory Thai Stir Fry Dishes You Don't Want to Miss!
8 Tender and Juicy Thai Meat Dishes You'll Love!