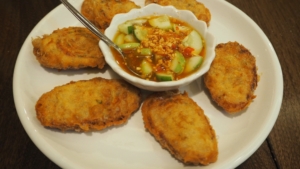 Need something to munch on while you spend a cozy night? Or maybe you just don't feel like cooking and want to indulge in some delicious Thai food without leaving your house? Whatever your reason may be, Thai food delivery is the perfect solution! 
Thai cuisine is known for its bold flavors and fresh ingredients, and there are plenty of dishes that are just as good when delivered as they are in a restaurant. From classic Pad Thai to the crunchy Shrimp In Blanket, here are 10 dishes to try today for the ultimate Thai food delivery experience. Just sit back, relax, and let the flavors of Thailand come to you!
Pad Thai
A classic Thai dish that is perfect for delivery, Pad Thai is a stir-fried noodle dish that can be customized with your choice of meat (chicken, shrimp, or beef), tofu, and veggies. It's usually topped with peanuts and a squeeze of lime juice for an extra burst of flavor.
Sai Krok Isan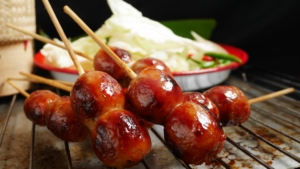 These Thai sausages are made with pork and rice and are flavored with garlic, lemongrass, and chili. They're grilled and served with a spicy dipping sauce, making them a perfect appetizer or snack for your movie nights!
Sweet Corn Veggie Cake
A vegetarian option that is both sweet and savory, these corn cakes are made with sweet corn, cilantro, and a blend of Thai spices. They're then deep-fried to crispy perfection and served with cucumber salad topped with sweet and sour sauce.
Thai Fish Cakes
These savory and slightly spicy fish cakes are made with ground fish, curry paste, and green beans. They're then fried until crispy and served with a sweet and tangy cucumber sauce. These are perfect for your Thai food delivery cravings, whether as an appetizer or a main dish.
Pad Cashew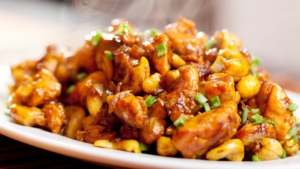 If you're a fan of stir-fry dishes, Pad Cashew is a must-try. It's made with your choice of meat, cashews, vegetables, and a savory sauce that's both sweet and salty. The cashews give it a nice crunch, and it's usually served with steamed rice. This dish is a great option if you're looking for something flavorful but not too spicy.
Orange Sesame Chicken
For those who love sweet and sour dishes, Orange Sesame Chicken is a great choice. This dish features tender pieces of chicken tossed in a sweet and tangy orange sauce, topped with sesame seeds. It's usually served with steamed rice and some veggies on the side. It's a delicious and satisfying option for your Thai food delivery order.
Pad Broccoli
For those looking for a healthier option, Pad Broccoli is a delicious stir-fry dish with broccoli, yellow onions, and your choice of meat (chicken, beef, or shrimp) in a savory garlic sauce. The broccoli is slightly crunchy and provides a fresh contrast to the rich and savory sauce. This dish is perfect for those who want a balance of vegetables and protein in their meal.
Deep Fried Tilapia with Fried Thai Herb
Deep-fried Tilapia with Fried Thai Herbs is a popular dish in Thailand, and it's easy to see why if you crave for Thai food delivery. The Tilapia is coated in a crispy batter and deep-fried until golden brown. It's then topped with a mixture of fried Thai herbs, such as lemongrass, kaffir lime leaves, and galangal. This dish is perfect for those who love seafood and enjoy bold and aromatic flavors.
Thai food delivery: Shrimp In Blanket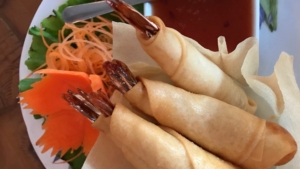 Shrimp In Blanket, also known as Goong Hom Pha, is a Thai appetizer that's perfect for sharing. It's made with fresh shrimp wrapped in spring roll wrappers and then deep-fried until crispy. The result? Just a crunchy exterior and a juicy and flavorful interior!
It's usually served with a sweet and sour dipping sauce, which complements the savory and slightly sweet taste of the shrimp. This dish is perfect for those who want to start their meal off with a tasty and satisfying appetizer.
Fried banana with Honey
When thinking about Thai food delivery, let's not forget about the dessert. Indeed, no meal is complete without a delicious dessert, and Thai cuisine has some amazing options to offer. One popular Thai dessert is Fried Banana with Honey. These are sliced bananas coated in a batter made of rice flour, cornstarch, and baking powder, then deep-fried until crispy and golden brown. The warm, crispy banana fritters are then drizzled with honey and sprinkled with sesame seeds for an extra crunch. It's a perfect way to end your Thai food delivery feast on a sweet note!
Satisfy Your Cravings With Thai Food Delivery Today!
We hope this blog has helped you find the perfect Thai food delivery options to satisfy your cravings. Whether you're in the mood for something savory or sweet, there's a dish on this list for everyone. From Pad Thai to Fried Banana with Honey, these dishes are sure to transport your taste buds to the streets of Thailand.
Ready to order? Yummy Thai Flower Mound has got you covered. Check out our menu or give us a call now!
More like this:
Sweet Thai Food Guide: 6 Must-try Desserts for a Heavenly, Satisfying Treat on Your #CheatDays
A World of Flavor Awaits: 4 Delicious Vegetarian Thai Recipes to Try!
Thai Cravings: Top 10 Signature Thai Foods You'll Crave After Just One Taste!
Spicy Thai Food: 7 Awesome Dishes That Will Set Your Mouth On Fire!
10 Thai-Inspired Thanksgiving Food Ideas for a Delicious Holiday Meal!
8 Must-Have Thai Ingredients for Your Next Awesome Dishes
4 Dairy-free Thai Foods That Would Satisfy Your Diet and Cravings!