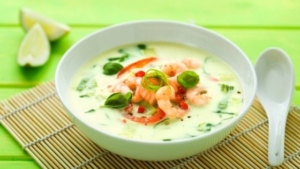 "Kaeng" or "gaeng," also known as Thai Curries, are curry dishes in Thailand, and curry pastes are popular ingredients in Thai Cuisine. Every Thai Curry dish comprises curry paste, seafood, meat, vegetables or fruit, coconut water or milk, and herbs (to give an aromatic smell). However, in other parts of the country, coconut milk is absent in making the curry paste because they can't grow coconut palms well due to the climate, especially in the highlands, as you know that coconuts grow well in hot places. 
There are variations of curries in the Land of Smiles, namely Red, Yellow, Green, and Massaman curry. And each Thai Curry has its unique taste, from a tender, tangy, to super hot flavor. 
All of these curry pastes' ingredients are similar. The differences in the components depend on the color and taste of each paste. Let me walk you through the different types of Thai Curry.
Red
Thai Curry
Kaeng Phet, or red curry, is a spicy curry that comprises different kinds of meat, like chicken, pork, beef, seafood, such as shrimp or duck. However, for not meat eaters, tofu is a great alternative.
When a dish is color red, it is common to think it's too spicy and hot. But for red Thai Curry, the spiciness is not as much as the green Thai Curry. Between these two curries, green curry is spicier than red curry. 
Yellow
Thai Curry
Inspired by British influence in the late 19th and early 20th centuries, Yellow Thai Curry has the mildest taste among all curries and served in many Thai restaurants in the west. 
Kaeng Kari or yellow curry contains cinnamon, mace, garlic, salt, lemongrass, fenugreek, turmeric, coriander, cumin, bay leaf, cayenne pepper, and ginger. It is the mildest among the Thai curries because the chili is lesser than red and green curry. 
Green
Thailand Curry
Green Thai Curry is considered the hottest of all curries that will give you that burning but tasty flavor all over your mouth. For those who think that red curry is the spiciest among the Thai curries, it's about time to change this mindset. 
It's incredible to know that the hotness of this Thai Curry varies from different regions in Thailand. For example, in the Southern part of Thailand, green curry tastes fierier because of Bird's Eye chilies. Bird's Eye chilies are small and super spicy chili found in Ethiopia and Southeast Asia. 
Massaman Curry
This Thai Curry has its Muslim roots, and for that reason, it usually goes with chicken and other variations such as duck, beef, or mutton instead of pork. For vegetarians, they can make Massaman Curry with tofu, shrimp, and fish sauce.
The components of this Thai Curry are not common in Thai curries because of its origins such as cloves, star anise, cumin, cinnamon, nutmeg, bay leaves, and mace. To make the massaman curry paste, you need these local flavors like coriander, garlic, shallots, galangal, white pepper, chili peppers, lemongrass, and shrimp paste. 
CNNGo featured Massaman Curry as the number one most flavorful food in 2011 in World's 50 most delicious food. And it has remained in its rank in the 2018 version.
Flavorful Must-eat Thai Curry Dishes
Let's name a few of the must-eat curry dishes in the Land of Smiles and make your palate feast when you decide to try them out.
Khao Soi/Soy Curry
Khao Soi/Soy
means "cut rice" because the dough is from rice noodles and is cut after boiling. It is a
Chin Haw
dish, and you can find them mostly in Laos, Myanmar, and North of Thailand.
Chin Haw
are Chinese people from Yunnan who migrate to Thailand. 
The preparation of this dish varies from different places in Thailand. For example, in Laos, you need chopped pork, fermented beans, tomatoes, shallots, chilis, garlic, wide noodles, and sprinkled with bean sprouts, chopped cilantro, and scallions, and pork rind to make Lao Khao Soi. 
On the other hand, Northern Thai Kao Soi is a soup-like dish made with boiled egg noodles, deep-fried crunchy egg noodles, shallots, ground chilies, pickled mustard greens, and meat in a curry-like sauce that has coconut milk. 
Green 'sweet' Curry (Kaeng Khiao Wan)
Green curry is the hottest among all curries, but  Kaeng Khiao Wan (Wan means sweet) suits well Westerners, probably because of the dish's sweet taste. In the Land of Smiles, this dish consists of coconut milk, Thai sweet basil, pea aubergine, kaffir lime leaves, and chicken (or other meat, depending on your choice or what is available in your fridge).
Phanaeng Curry (Kaeng Panaeng)
This delicious red Thai curry comprises galangal, lemongrass, chili peppers, salt, garlic, shallots, coriander root and seeds, kaffir lime zest, and cumin seeds, shrimp paste, and peanuts (which make the dish nutty).
Pork Phanaeng is a well-liked dish in Thailand. Nonetheless, tofu would be a great alternative to meat for vegans, and they can use soy sauce or vegetable stock in place of the fish sauce. Matching rice for this kind of dish is a superb choice.
Thai Red Curry with Roasted Duck (Kaeng/Gaeng Phed Ped Yang)
Kaeng/Gaeng Phed is among the well-known curries in Thailand and is an excellent dinner party choice that you can make at home while having a good time with your family or friends. 
If you want to cook this dish from scratch, you need to prepare the following: red chilies – to give color to the food-, pineapple, tomatoes, turkey berries, sweet pepper, basil leaves,  and – don't forget the most enjoyable meat for Thai's – duck.
Once again, thank you so much for rendering your time browsing this write-up about
What Is Thai Curry? Red, Yellow, Green, Massaman.
We aim to give you a point of view about the variations of
Thai Curry
dishes. 
More like this:
Thai Chicken Dishes That Everyone Loves
Mouth Watering Thai Foods You'll Love at Yummy Thai Flowermound
How to Enjoy Thai Food at Restaurants – Norms & Traditions
Famous Thai Soups That Are Worth Trying!
Yummy Thai Flowermound Top Menu Picks