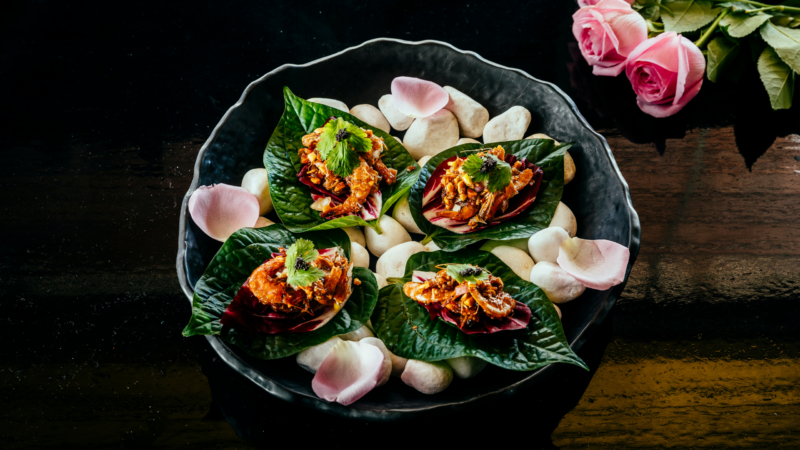 The Thai food history is full of surprising facts that will make you want to try Thai cuisine for yourself! Thai food is considered one of the world's best and high-quality cuisines globally. Furthermore, besides India, China, France, and Italy, Thai food belongs to the five most well-known food types worldwide. In fact, Thai food has become a leading culinary art globally over the last 30 years.
Thai Cuisine
When you read the Thai food history, you will learn many interesting facts about it; for example, its historical influences, regional variations, popular dishes in and outside the Land of Smiles, and such. 
One prominent quality of Thai cuisine when you read about Thai food history is the balancing of its essential flavor such as:
Sweet

Spicy

Sour

Salty

Bitter
And these flavors are dancing in your palate when you have your meal in most dishes that you order at any restaurant that serves Thai food. 
Thai Food History:
Influences
According to Thai food history, Thai cuisine likely originated from Indian dishes, but Thai food is now a unique and separate entity. Thai people are proud of their heritage which we see in the many Thai street vendors and restaurants today!
Its neighboring countries influence Thai cuisine; however, Thais have their way to moderate any dish and make it Thai-style food. 
Regional Differences
Thai food history is not just one thing, but rather all Thai dishes are slightly different depending on where they originated. Northern Thai cuisine will typically be less spicy than Southern Thai cuisine, and there might also be more red curry in the North than green curry. 
Northern Thai Cuisine
The Thai food history in the Northern part of Thailand shows that the dishes in this region are milder than in the southern part of the country. Moreover, due to the cold weather in this area, you can find various herbs and vegetables everywhere. 
Its neighbors like Burma, Laos, and China inspire many of the dishes of Northern Thai cuisine. Therefore, most of the dishes they offer are dishes inspired by these countries, but with the twist of Thai cooking style, of course. 
Southern Thai Cuisine
Opposite to Northern Thai cuisine, you'll find the flavors of Southern Thai cuisine to be spicier and fierier. It is also the most well-known cuisine in other countries since it's a tourist destination for many foreigners. Furthermore, most of the dishes in this region have coconut milk in them. 
Central Thai Cuisine
The Central Thai cuisine is between the Northern and Southern Thau cuisine. Plus, you can also find Royal Thai cuisine in this region. The central plains offer a wide variety of Thai dishes that many foreigners enjoy. It is the place to go for tourists since it's in the middle of the country, so many people who want to taste the different Thai dishes can order them in the central region of Thailand. 
Isaan Cuisine or North-eastern Cuisine
The Thai food history for Isaan cuisine is a combination of Laos and Cambodia traditions. Most of the dishes in this region are fiery and spicy. If you are looking for a flavorful meal with sticky rice, indulge in Isaan cuisine.
Popular Dishes
Thai curries are the sought-after dishes basing on Thai food history. And the good news is that they are straightforward to find from the North to the South of the country. Therefore, it's effortless to order these dishes at any Thai restaurant because they are always available. 
Thai Curries
Thai curries usually consist of curry paste, coconut milk, and meat such as chicken, seafood like shrimp, herbs, fruits, and vegetables. Thai spices such as cumin, coriander, and lemongrass give character to Thai curry dishes.
And to further enjoy the curries, let's talk about the various kinds of Thai curries.
Green Curry:

The green curry or

Gaeng Keow Wan

is the most famous among all the curries in

Thai food history

. Plus, it is the spiciest compared to the other Thai curries. So if you opt to have a fiery curry dish, this is an excellent option.

Red Curry:

As opposed to green curry, the red curry is not as spicy as the green curry. Chefs use many red chilies in preparing this curry to maintain its color and spiciness. However, nowadays, chefs use chili powder to achieve the red color and flavor. 

Massaman Curry:

Among the sweetest curry is the Massaman curry. It comprises cinnamon, cardamom, nutmeg, and cloves which are the origin of its sweet flavor.

Yellow Curry:

Newbies for curry dishes can choose yellow curry since it has a mild and savory flavor. 
Thanks a lot for taking the time to read about The Incredible Thai Food History +4 Regional Differences. Take your order now and dig in!
More like this:
9 Most Popular Thai Appetizers
10 Comforting Thai Soups You Should know
Thai Food Culture: An Essential Guide
Thai Chicken Dishes That Everyone Loves
Mouth Watering Thai Foods You'll Love at Yummy Thai Flowermound
How to Enjoy Thai Food at Restaurants – Norms & Traditions
Famous Thai Soups That Are Worth Trying!