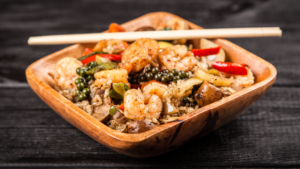 When you think of Thai food, what's the first thing that comes to mind? Thai lunch combos, of course. Thai food is famous for its variety and wide range of flavors. The Thai people are proud of their cuisine and have developed hundreds of dishes over the centuries to keep things fresh and exciting. 
Thai lunch combos offer a great way to sample many different dishes in one sitting without breaking your budget or leaving you feeling too full afterward. Let's talk about some frequently asked questions by people new to Thai cuisine, including how much Thai lunch combos cost at each restaurant or which dishes they should try on my first visit.
How Much Do
Thai Lunch Combos
Cost?
Thai food is a trendy cuisine in the United States, but many people do not know many options (mainly for newbies who want to try Thai food). There are many different dishes and Thai lunch combos that you can order at any Thai restaurant. 
People who are new to Thai cuisine are curious about the cost of Thai lunch combos. We assure you that Thai food is affordable, so you can enjoy your meal when you dig in! If you want to know how much Thai food costs, you can find it here. 
Which Dishes Should You Order?
Thai food is one of the most delicious cuisines globally, and Thai people are some of the friendliest people on earth. Thai lunch combos are a great way to explore different dishes from Thai cuisine. 
Here is an overview of what you can get at Thai restaurants and what they offer for their famous Thai Lunch Combos to make your decision easier.
Thai Lunch Combos
With Rice
People in Thailand love eating rice, and they pair most of their dishes with Jasmine rice. Therefore, if you enjoy pairing rice with your meal, these must-try Thai lunch combos are for you. But, if you want to eat the dish without the rice, there's no problem, and you can still indulge yourself with the dish you ordered. 
Thai Cashew Chicken: People across Asia love eating stir-fried cashews, and the Thai-style cashew chicken is one of the favorites! 
Thai Panang Curry with Vegetables: Curries are famous in many Thai dishes, and one of the delicious curries you can try is the Panang Curry. The dish is so creamy with coconut and peanut. The colorful bell peppers and carrots entice your tastebuds and enjoy your food.
Pad Thai: Pad Thai is sought-after in Thailand and many different countries; hence, this dish is available in almost all Thai restaurants globally. The great news about this dish is, it has different variations depending on the restaurant you dine in, so you can taste the various flavors of this food when you go restaurant hopping. 
Thai Seafood: Thai people love their seafood, and many different types of Thai food use it like Kung thot krathiam phrik Thai, Pla duk phat phet, Poo cha, Kaeng tai pla, or Thai-style omelet with oysters or mussels. 
Other dishes worth trying are Khao Pad, Thai-style Brisket, Thai Coconut Beef, Pad Phuk Tong, and many more mouth-watering servings! 
Thai Lunch Combos: Salads
Thai salads are a healthier option for Thai food, and they serve them with different kinds of toppings. When you crave salad for your lunch, there are a wide variety of Thai salad selections. 
Laab:  It is a spicy salad in Isan and consists of meat (chicken or pork), mushrooms, and mint. 
Thai Green Papaya Salad: Let's level up the papaya with this yummy Thai Green Papaya Salad. The shredded green papaya with the different colorful ingredients is a healthy meal to try. 
Yam Nuea Yang: After eating a serving of this salad will make you ask for more. The dish contains various herbs and vegetables and is spiced with sweet, sour, savory, and spicy dressing. 
You may want to try other Thai salads: Som Tom Polomai, Phla Kung, Cucumber Salad, and many more!
Thai Lunch Combos
: Drinks
Besides the satisfying Thai lunch combos, you can indulge in during your meal, try the colorful and refreshing Thai drinks you can find at the restaurant's menu. Many Thai drinks are sweet (which is excellent for people who have a sweet tooth) and are superb in quenching your thirst, mainly during a hot sunny day. Some of the various Thai beverages you can taste are Nam Anchan, O-liang, Nam Bai Toey, Cha Manao, or Cha Yen.
This is just a small selection of all that Thailand has to offer, so if you're looking for more information about Thai lunch combos or other Thai food, please don't hesitate to contact us today!
When you dine-in with your friends at a Thai restaurant near your place, order the first Thai lunch combos that would please your palate. Have a good time!
More like this:
The Incredible Thai Food History +4 Regional Differences
9 Most Popular Thai Appetizers
10 Comforting Thai Soups You Should know
Thai Food Culture: An Essential Guide
Thai Chicken Dishes That Everyone Loves
Mouth Watering Thai Foods You'll Love at Yummy Thai Flowermound
How to Enjoy Thai Food at Restaurants – Norms & Traditions